Tuesday Update for 2020-12-29: Novavax
Herewith three items of pandemic news you may have missed recently: psychotic sequelae to Covid-19; Novavax's Phase III begins in the US; and as we move into year 2, what we may choose to forget. Plus the usual frippery.
What the next year may bring
One of my favorite analysts of our current condition, Ed Yong (pictured), has a long and thoughtful piece in The Atlantic on how we as a society may choose to go forward once the pandemic is better under control. What will we choose to remember from the poleaxing year of 2020, and what will we prefer to forget?
2020 has thrown into sharp relief the many inequalities and inequities in American society. Child care, daycare, maternity leave; housing; income; medical security: Will we begin to address some of these?
Will we finally shore up our public health infrastructure so that the US has a chance when the next (possibly much worse) pandemic hits?
Think of epidemics as a million rivers that must all flow through the same lake. The US has been trying to dam the rivers. It has to focus on the lake.
Novavax Phase III begins in US
We noted last September when Novavax began its Phase III journey with a 10,000-person study in the UK. At the time its US branch was expected to open up in October, but manufacturing issues intervened. Two months late, the study is recruiting now — but not in Minnesota. The study will eventually enroll 30,000 volunteers across 115 sites in 31 states.
The company hopes to recruit 25% of its volunteers from the 65-and-over age group, as well as 15% Black, 10%-20% Latinx, and 1%-2% Native American. The regimen requires two doses, three weeks apart. Two-thirds of the vol­un­teers will get vaccine and one-third a placebo.
Novavax's vaccine candidate, NVX-CoV2373, is built on an entirely different platform than the mRNA we have been reading about for the Pfizer / BioNTech and Moderna vaccines. They call it recombinant protein nanoparticle technology. The vaccine consists of a stabilized spike protein (not DNA or RNA) adhered to proprietary nano­particles. The company has used this technology in a number of vaccine candidates, including one for flu that wrapped up Phase III testing in March. Novavax also endured two failed Phase III trials, in 2016 and 2019, for a respiratory syncytial virus vaccine.
NVX-CoV2373 is boosted by their proprietary Matrix-M adjuvant, produced by a Swedish subsidiary (then called Isconova AB) that they acquired in 2013. The company says the adjuvant is dose-sparing: they can use less of the recombinant protein material and still have an efficacious vaccine. NVX-CoV2373 shots have only 5 mcg of the active ingredient, vs. 30 mcg for Moderna and 100 mcg for Pfizer.
This parsimony, in addition to its stability at mere refrigerator temperatures, means that NVX-CoV2373 is attractive for use worldwide in poorer countries.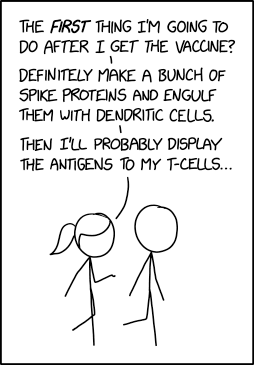 "Then I'm going to go on a weeks-long so­matic hyper­mu­ta­tion ben­der, pro­duc­ing ever-more targeted antibodies, while I continue to re­main distanced and follow guid­ance from pub­lic health au­thor­i­ties."
In a paper published in the New England Journal of Medicine earlier this month, Novavax reported that in Phase I / II testing, its candidate produced antibody levels, including neutralizing antibodies, five to eight times those seen in convalescent plasma from recovered Covid-19 patients.
Post-Covid psychosis
Mental health professionals worldwide are seeing a trickle of alarming cases in patients in the months following a bout of Covid-19. Adults in their 30s to 50s, who have never had any indication of psychiatric issues before, are presenting with psychotic symptoms. The cases outlined in the NY Times story linked above are distressing to read. Doctors don't know whether SARS-CoV-2 in­cur­sion into the central nervous system is hap­pening, or whether overactive immune systems are to blame, or both. One hint: some patients have had uncharacteristic reactions, such as rashes, following virus infections (not SARS-CoV-2) in the past, and researchers believe these to be an indication of inappropriate and long-lived immune responses.
Frippery
To reward your patience today, here's a frippery from xkcd. For those who may not be familiar: xkcd is a comic from Randall Monroe much beloved of geeks of all stripes. It is subtitled "A webcomic of romance, sarcasm, math, and language."